Caring for Your New Cabinets
Here are a few tips to maintain the beauty of the cabinets for years to come.
If you have any questions about caring for your cabinets, feel free to CONTACT US.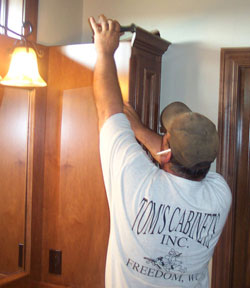 As completion of your new home or remodeling draws near and as you begin your move in process, take extra care not to set items on the countertops. Have subcontractors avoid setting their tools, boxes, etc. on the countertops. Fine scratching could occur from items being moved across the fine particles of drywall dust that may be on these surfaces. The temptation is to immediately begin putting things in the drawers and cabinets. After all, you've been waiting for this moment a long time. However, before starting to put things away, we suggest you do the following:
With a damp - but not wet - soft cloth, wipe down all the cabinetry, including the inside of drawers and cabinets and all hardware. Use another clean, soft cloth to dry. If you use a glass cleaner on any glass doors, be sure to protect the wood surfaces as ammonia in the glass cleaner can damage the finish on your cabinets.
Because your cabinets have water resistant melamine interiors, you do not need to line them with shelf paper. Instead, wipe them with a soft cloth in the same way that you wipe down the exteriors.
Your new bread board should be treated prior to using. Pull bread board out, coat with mineral oil, do both sides and let the bread board dry overnight by placing over your kitchen sink.
All drawer and sliding tray guides are rated for 100 lb. weight capacity. Periodically check to make sure that you are not placing too heavy a load on shelves and drawer bottoms. This is especially important with sliding trays, slide out drawers, lazy susans, and any place where heavy or unbalanced loads can shorten the life expectancy of the moving or mechanical parts.
What To Use On Your Cabinets
---
Like any fine-quality surface, your cabinetry should be treated carefully and cleaned and maintained with quality materials.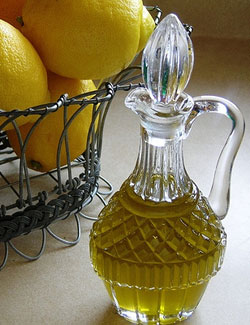 DO NOT allow water, chemicals (detergents, ammonia, vinegar, etc.) and hot or acid food spills to set on your cabinets. ALWAYS immediately wipe up spills as quickly as possible so they won't damage the wood.
DO use a soft cloth. DO NOT USE coarse or abrasive cloths or materials as they may dull the finish or leave scratches that cannot be removed. DEFINITELY AVOID soap pads, scouring pads and brushes.
DO use soapy water, a mild, all purpose cleaner without ammonia. DO NOT USE ammonia, products that contain ammonia, strong solvent cleaners, mineral spirits, paint thinner or any other harsh cleaning chemicals.
DO use high quality lemon oil that is especially formulated for fine furniture, but only once per year. DO NOT USE wax, oil soap or a polish that contains silicone. Wax builds up on the surface and causes yellowing; silicones smudge and highlight fingerprints, and can be removed only with extreme measures.
What To Expect From Your Cabinetry
---
Wood is a natural material. As such, seasonal growth patterns and weather conditions contribute to the uniqueness of the grain and color in each piece of board cut from a tree. These conditions also add the swirls, burls, mineral streaking, fine pinholes, pitch pockets and color streaks that you find in the wood of all fine cabinetry and furniture. Later, as the wood is cut, sanded and rubbed with a finish, all of these features combine to give your cabinetry special character and a deep, rich patina. Because temperature, seasonal growth patterns and weather conditions are not the same in all parts of the country, different types of trees produce wood with different features.

Within the wood are wonderful variations in color, ranging from pink, to green, to yellow and brown. There can be mineral streaks, fine pinholes, grain swirls and occasional pitch pockets. The best part of the tree for making furniture is the heartwood, but even after it has been made into cabinetry, cherry heartwood continues to change and darken as UV light interacts with the oxygen in the wood, giving your cabinetry an ever improving patina.

Maple's grain is straight, fine- textured and strong, making it as heavy and durable as red oak. Within the grain are variations in color ranging from light to dark reddish brown as well as mineral streaks, swirls and pitch flecks. Over the years, the interaction of sunshine with the oxygen in the wood will give your cabinetry a soft golden glow.

Oak's grain is quite dominant and varies from straight lines to arched or pointed patterns. Colors range from pink to green as well as from light to dark. Like so many other woods, the color and patina of oak cabinetry deepens as the wood interacts with natural light.

Hickory is a strong and durable wood with tight grain. Its grain pattern is wavy and contains dramatic color variations ranging from white to reddish brown. Sometimes the wood can be described as having a zebra or bleached and brown effect because of the striking variations even within the same piece of wood. Hickory is not for the timid. It is for those who like how interesting grain patterns that can bring a room to life.
The cabinetry you have selected has its own personality and character, as well as a richness and depth in its color and grain. You will be more likely to notice the variations in the grain and color of your cabinetry if you have selected a natural or light finish. If you chose a darker finish choice, those variations will probably be less apparent.
Your cabinetry has been constructed from carefully selected quality hardwoods. Because imperfections are part of the natural beauty of hardwood, and not the result of the manufacturing of your cabinets, we cannot guarantee the differences in color, grain and natural variations. Nor can we guarantee possible differences in color when adding new cabinetry to older existing cabinets. Wood also changes with changes in temperature and humidity. Dry winter months cause wood to shrink, while summer months have the reverse effect causing the wood to swell.
Laminate countertops have a wood product as their supporting member, thus shrinkage and movement will occur with these as well. We encourage you to enjoy the natural beauty of solid wood and appreciate those characteristics that give it personality.
If you have any questions about caring for your cabinets, feel free to CONTACT US.
Thank You!